Are your neighbours planning building works?
Are your neighbours carrying out or planning to undertake any of the works listed below? If so, legally your neighbours should serve a Party Wall Notice upon you before commencing any such works.
An extension, whether that be to the rear, side or into the loft.
Conversion of a basement, garage or loft.
Underpinning.
Alterations, demolition or repairs to a wall, ceiling or floor shared with another property.
Roofing works, including to the chimney.
Building a free standing wall, or a wall of a building, up to or astride the boundary with a neighbouring property.
Excavating and casting foundations within 3 or 6 metres of an adjoining building owned by someone else.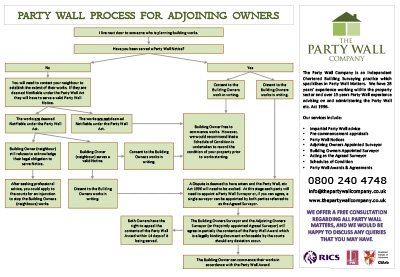 The Party Wall etc. Act 1996 provides Adjoining Owners with rights you would not necessarily be granted within common law. If Adjoining Owners Dissent to the Building Owners proposed works, the Party Wall etc. Act 1996 allows the Adjoining Owners an element of influencing how and when the works will be carried out, how any damage will be remedied and, where necessary, have monies deposited as security should the Building Owners not complete the works.
The Party Wall Company advises Adjoining Owners on all Party Wall Matters and we can act as your appointed Party Wall Surveyor.
---
What is an Adjoining Owner?
Definition of an Adjoining Owner
"Adjoining owner" and "adjoining occupier" respectively mean any owner and any occupier of land, buildings, storeys or rooms adjoining those of the building owner and for the purposes only of section 6 within the distances specified in that section.